The new EGG Quail Baby Stroller at Mari Kali Stores!
Quail, the second stroller from the Egg brand by BabyStyle is coming soon, at Mari Kali Stores.
Following the huge success of it's predecessor, Quail is the new baby stroller that features Egg's signature design with even more, exciting features.
The main focus of the egg strollers brand and BabyStyle has always been to provide a comfortable ride for both you, the parent and your baby.
Design
Quail has a similar look and design to the original Egg Stroller, from the fabrics and harness, to the amazing quality hood and overall shapes. This new full pushchair has not been designed to replace the original, but acts as an alternative choice for parents with different lifestyles and needs.
The new logo for this particular model is the icon of a Quail bird and incorporates an egg on it's center. A beautiful touch are the footprints on the tyre, adding a few more bonus points to the brand's design team who have proved us they have an eye for details. The Quail stroller will be available in 4 exciting colours.
On the back you will notice a removable back plate. This part can be swapped easily for a different one and is held magnetically. The back plate acts as a barrier from you and the strollers' seat unit mechanisms which hold the hood adjustments and harness adjustment.
Features
Only a few Baby Strollers can do what this new addition to the Egg family can. But lets start with the basics.
The Quail has the options of both parent and forward facing.

It is compact and it's folding mechanism makes sure you can store it in practically any car.
Folds with either the seat attached or not and the best part is, you can fold it with the seat unit facing either way!
When folded, the pram free-stands which is an important element.
During the folding sequence, the handle does not touch the ground, meaning the eco-leather featured on it will bot be harmed.

The new seat unit is a full flat lie seat, meaning your baby can use it from birth, so a carrycot is not needed.

Engineering
What makes the Quail stroller stand out from the rest is something that you can't notice right away. The harness is adjustable and to do so, you don't need to swap the buckles off the stroller. Just remove the backplate and use the small lever to adjust the harness level. So you can adjust it's height as your baby grows.
The second lever behind the backplate represents the hood height level. You can use this new feature to maximise the back seat's height according to your baby's height, which makes this stroller even more customisable.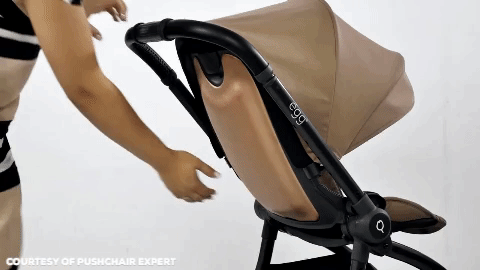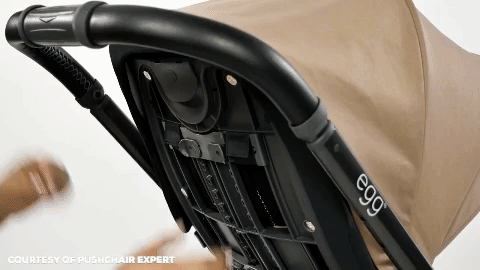 The new Quail Egg stroller is coming soon in all Mari Kali Stores in Cyprus.